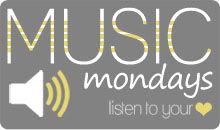 Linkin'-Up today for a second time in a row for Music Mondays, hosted by Kristen at Confessions of a Graphic Design Student. This week's theme: St. Patrick's Day.
Speaking of St. Patty's Day...
Did you go out and celebrate? Have a couple of green beers or Irish Carbombs? Below is a photo of my friend Logan and I at last year's celebration. B-T-Dub, we're both super Irish so it's kind of a big deal ;) Last year we went all out and had a fabulous group of us at the local watering hole complete with the moms, bros and kareoke. This year was a little more low key, but still a time well had. I only wish I had gotten a photo...Logan styled my hair for me and it came out so good!!
And now...for what you really came here for:
 A collection of Irish-inspired songs


Flogging Molly ~ Celtic Folk


Mumford & Sons ~ Folk Rock


Snow Patrol ~ Alternative Rock (from Northern Ireland)