Today you are in for a SAUCY little treat!
That's right, I've got the one and only Annelise from Aunie Sauce and she's taking over All Things Lovely today to share some sweet styling tips. So sit back, grab your notebook and take notes because she's going to leave you swooning over these outifts!
___________________________________________________________________________________
Hello lovely ladies!
My name is Annelise and I blog over at the little blog called
Aunie Sauce
.
I'm the girl who is "not." NOT a mom. NOT a graphic designer. NOT a
baker. So, what am I?
A 20-something swanky Idahoan who blogs about
faith, personal style, and daily shenanigans.
Let's just say, Aunie Sauce is NOT your average blog.
Even though I've got a whole bunch of
not's
going on, I did mention I blog about my
personal style
, right?
Today I want to introduce you to my favorite staple in my closet: the black top.
Whether it's a tank, tee, lace, chiffon, button-up, or cardigan... I just love black.
Even more than that?
I love accessorizing black.
Here are 3 quick tips to making your black tops pop this summer!
1. Add a jean jacket or chambray top.
Jean jackets, though casual, can really class-up an outfit.
Take the jacket above, for example.
It's actually a blazer, and definitely makes this a look that can go to the office, or out on the town to sip on margaritas or rock your socks at a music festival.
2. Toss on a bright scarf
Now, while my boyfriend isn't the biggest fan of scarves
(he says scarves are for winter-time),
I think they are just plain awesome.
They add a pop of color, they can hide a stain (messy? me?),
and if worn long and low they can make you look slimmer, too.
Imagine that!
3. Opt for a high-waisted skirt and tuck that black top in!
Want to make your waist look nice and tiny while still rockin' some sweet summer-color?
A nice high-waisted skirt, funky necklace, and printed cardigan can do the trick!
Black tops are so versatile.
You really can style them any way you want.
You can tuck them into some skinnies and wrap yourself in a funky belt.
You can toss on a vest and be good to go.
Don't forget about adding statement necklaces for a big pop of flair!
The possibilities are endless!
I hope you enjoyed my little how to style a black top post!
See you soon!
Clothing // Jacket: Express (similar here) // Top: Nordstrom Rack // Shorts: Nordstrom Rack // Necklace: Premier Design // Scarf: TJ Maxx // Shoes: Steve Madden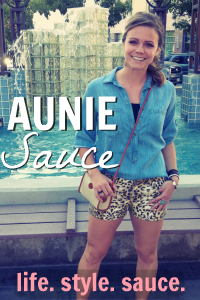 ______________________________________________________________________________
Isn't she just precious?! I told y'all you were in for a treat!
BIG
thank you to Aunie for stopping by today.
How would you style your black top?